Let's Reach
&

Teach the Next Generation of Dog Owner

(and build your business at the same time)
Good Dog Family Friendly Dog Training Program
Reward based dog training curriculum, training exercises, and support materials for families with kids and dogs.
Small Business Academy for Pet Pros
Turn your passion for dogs and cats into a thriving business with the tools you need to create more impact (and income) in your career.
Good Dog Education Programs
Market yourself and your business while teaching humane education, dog bite prevention, responsible pet ownership, and breed equality.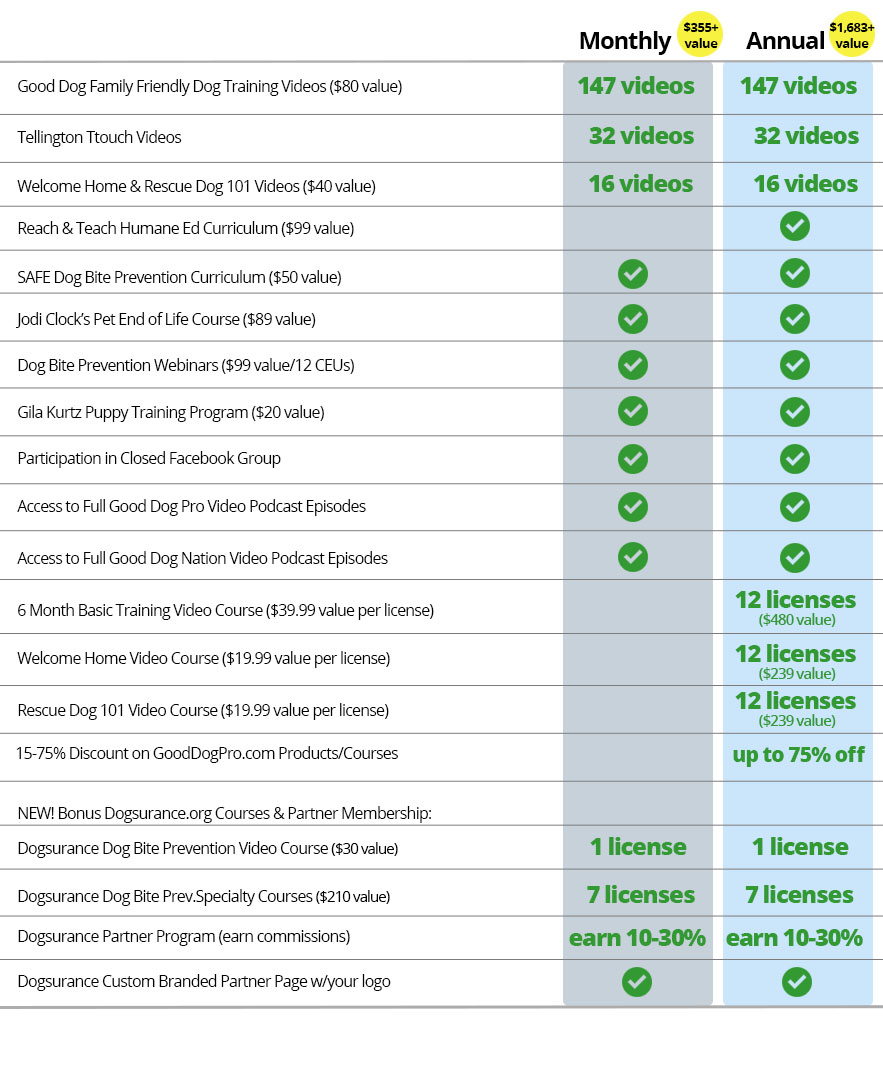 1
Our core reward-based dog training videos with content for kids and adults. Great reinforcement for dog trainers to use between in-person classes. Complete dog training program, all online.
2
Circular movements done with the hands and fingers to reduce tension and increase learning potential. Also promotes gentle interactions for children.
3
Videos developed for pet parents of a new dog. What to do in the first two weeks with a new dog.
4
Humane Education curriculum for elementary school children, available as a digital download with PowerPoints and support materials.
5
SAFE dog bite prevention curriculum for elementary school children, available as digital download.
6
Grief and pet cremation expert, Jodi Clock, discusses end-of-life issues that every dog professional needs to know.
7
Get an All Access Pass to the Good Dog in a Box Dog Bite Prevention Week Webinars from 2018 and 2019. Twelve webinars in all with experts in reward-based dog training, dog bite prevention, and liability. 12 CEUs.
8
Professional dog trainer and puppy expert, Gila Kurtz, takes viewers through basic training with puppies.
9
Join the Good Dog Pro Facebook community and discuss topics related to dog professionals.
10
Exclusive access to 30 minutes of extra content especially for dog professionals from the Good Dog Pro video podcast with Drayton Michaels, Pit Bull Guru, and Kim Merritt, cofounder of Good Dog in a box and Good Dog Pro.
11
Exclusive access to an extra 30 minutes a week of exclusive content for dog professionals from Good Dog Nation video podcast with Michelle McCarthy, CPDT-KA, of K9 Homeschool, and Kim Merritt, cofounder of Good Dog in a box and Good Dog Pro.
12
When you purchase annually, get licenses for our basic reward-based, family-friendly dog training video program that you can give to clients to make practicing between class or in-home lessons easy. Follow our curriculum or mix and match with your own.
13
When you purchase an annual subscription you get 12 licenses to the Welcome Home video series for new pet parents. Give them to clients or resell them ($19.99 retail value per license).
14
When you purchase an annual subscription you get 12 licenses to the Rescue Dog 101 video series for new pet parents of a rescue dog. Give them to clients or resell them ($19.99 retail value per license).
15
Get a discount of between 15 – 75% on Good Dog Pro products, printed curriculum materials, and specialty courses.
16
Get access our brand new dog bite prevention training course, Dogsurance at Dogsurance.org.
17
Get a license to each of our new Dogsurance dog bite prevention training courses for each of seven different industries.
18
Get enrolled in the Dogsurance Partner Program and earn up to 30% on product and course sales that you send to Dogsurance.org.
19
Get a free custom branded Dogsurance Partner page on Dogsurance.org. Your name and logo on a page just for your customers to purchase on. Earns you up to 30% commission on every sale.
Weekly Video Podcast to Inspire
&

Motivate You

Participate in weekly webinars and video podcasts with some of the top dog and marketing experts in the profession.
Learn From The Best
Top Names In Dog Training Share Their Secrets and Inspiration
Each month, you'll have the opportunity to participate in webinars and video podcasts held just for our members. Each session will have Q&A to let you ask the questions you've always wanted to ask, directly to your favorite trainers in the industry. Each webinar and video podcast is recorded and added to our ever growing online library, full of resources that you can reference any time. Some events will qualify for CE credits.
Rise VanFleet, PhD
&

Cathy Reisfeld
Mikkel Becker, CBCC-KA, CPDT-KA, KPA CTP, CDBC, CTC, of Fear Free
Tracy Krulik, CTC, CSAT, of I Speak Dog
Get Inspiration From Those That Have Done It
Marketing and sales webinars and video podcasts to feed your inner entrepreneur
Learn marketing, sales, and growth tactics from accomplished business owners in the pet space and beyond. You won't want to miss these power packed hour webinars that will give you tons of ideas to increase your bottom line and get your positive message out in the world. Different topics are covered each month.
Gila Kurtz of Dog Is Good
Jamie Migdal, CPDT-KA, of Fetch Find
Drayton Michaels, CTC, The Pit Bull Guru